Roof Restoration & Replacement Perth
Our professional team is here to get your roof looking as good as new again. From partial restorations through to full roof replacements, we provide specialist roofing services to residential and commercial properties across the Perth metro area.
No matter whether you have a tile or metal roof, we can improve the appearance of your property and manage all of your maintenance needs. As a local, family owned and operated business, we're here to look out for you and ensure you get the best possible outcome. Get in touch with us today to discuss your roof restoration project.
FREE ONLINE
ROOF RESTORATION OR REPLACEMENT QUOTE
Our Restoration Services
Tile Roof Restorations
If you're looking to restore an old or damaged tile roof, we will replace the worn-out sections, pressure clean the entire roof and apply a new coat of paint for a seamless finish. When a full replacement is required, we will go through a similar process, simply removing the existing tiles before installing the new roof.
You may decide to go with a tile roof if you're looking for a classic aesthetic or a cooler solution for your property.

Metal Roof Restorations
For metal roof works, our team will take the same steps, first replacing any rusted or structurally impaired areas. Once we have cleaned and painted the surface of both the new and existing metal sheets, your roof will be left in a near perfect condition.
Made from COLORBOND® steel, metal roofing provides a hardwearing, low maintenance solution that is designed to withstand the harsh Perth climate. While a tile roof may be preferred, we generally advise that a metal roof will provide better long-term results.
Ready To Get Started?
Is your roof showing signs that it may need some attention, get in touch with us today. As Perth's roofing specialists, we'll get your roof looking its absolute best for a highly competitive price.
Why Choose Us?
With 16 years' experience of performing roof restorations and replacements throughout Perth, you can rely on our team to handle all of your roofing needs. We hold ourselves to a very high quality of workmanship and will always do whatever it takes to ensure our customers are 100% satisfied with the final outcome. Friendly and efficient, our team will communicate with you every step of the way, providing an excellent experience from start to finish.
Custom Roof Restorations
Before we recommend the right roofing service for you, we will first come out to your property and perform a thorough inspection. Depending on the amount of wear and tear, it may only be necessary to restore a certain section of your roof, rather than undertaking a complete replacement. If your roof is still in good condition, a pressure clean and fresh coat of paint may be more than enough to give you results. We'll also be able to recommend if your roof requires any repair work done to prevent future damage.
When providing you with a solution, we will take your budget as well as your future needs into consideration. While a roof restoration will take care of any existing maintenance issues, a replacement will act as a preventative measure. We can also discuss whether switching to a tile or metal roof will be a suitable option for you.
Safe Roof Restorations
All of our highly skilled team members have the necessary qualifications to safely undertake roof installation works. With individual Working From Heights certificates, each of our workers follow a strict set of OH&S guidelines, using scaffolds, cherry pickers, elevated work platforms and harnesses as appropriate. When working on heights above 3m, we implement roof fencing around the perimeter of the installation area.
Before and After Our Roof Restorations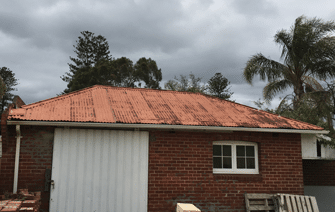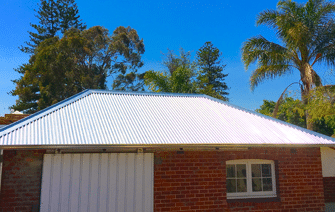 As Perth's roofing specialists, we'll get your roof looking its absolute best for a highly competitive price. We'll start by conducting an inspection of your property where we will provide you with an instant on-site quote that's tailored to your requirements. Contact us now to discuss your roofing needs and book an inspection.