ROOF PAINTING PERTH
Freshen up your roof and improve the overall appearance of your property with professional roof painting. Offering a cost-effective alternative to replacements and restorations, our roof painting service is the perfect way to breathe new life into your tired roof.
If you want to get your roof looking its absolute best, get in contact with us today.
FREE ONLINE
ROOF PAINTING QUOTE
We Specialise in Painting Both Tile and Metal Roofs
As Perth's roofing specialists, we're able to work with tile and metal roofs across residential and commercial properties throughout the metro area. By trusting your roof to our experts, you can rest assured that you will get an outcome that exceeds your expectations.
If you're looking for a cost-effective alternative to a restoration or replacement, roof painting may be a good option for you. At Rooftec, we offer roof painting services for both tiled and metal roofs. 
As roof painting is a multiphase process, our team will remain in close contact with you throughout the full duration of the project. Our highly skilled, fully certified team will work safely and efficiently to get your roof looking as good as new as quickly as possible. Here at Rooftec, we always go above and beyond to ensure you are 100% satisfied with the final result. As a family owned and operated business with 16 years' experience, you can rely on our experts to take care of all your roofing needs.
Our Roof Painting Process
Before we begin the painting process, we take steps to prepare the roof surface, with the aiming of ensuring a high-quality finish. No matter whether you have a tile or metal roof, our team will first take care of any minor maintenance issues, from fixing leaks to replacing rusted nails. For metal roofs, we can treat the surface with a rust converter solution to also prevent further corrosion.
Once we have completed any necessary repairs, we will pressure clean the roof to remove dirt, grime, moss and other sediment. As soon as the roof has dried, our specialists will then apply a primer layer before two coats of Acratex Roof Membrane. The entire process may take up to 1-2 days, depending on the recommended drying periods of the selected type of paint.

Choosing The Right Colour
When selecting the colour of your roof, you will be able to choose from a wide selection of colours in the Dulux roof painting range. From neutral greys and natural tones through to shades of beige and classic terracotta, there is sure to be a colour that complements your property. Each colour also comes with the option to select either a gloss or satin finish, depending on your preference.
While lighter colours will tend to keep your property cooler during Perth's hotter months, there are ways to improve the cooling abilities of darker options. The Dulux COOL ROOF range has been formulated to reflect the heat and offset the natural effects of dark roof colours.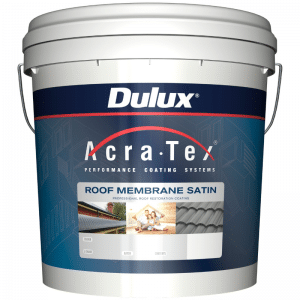 Quality Paint Products
For tile and metal roof painting, we only use premium quality products from the Dulux AcraTex Roof Membrane range. Designed to add a layer of protection to the roof surface, the 100% acrylic, non-toxic formula provides weather-proofing benefits and long-lasting results. In the hands of our experienced team, these products will ensure your roof ends up with a flawless finish.
As a well-known and reputable Australian brand, we have every confidence in Dulux and their roof coating range. For added peace of mind, all of their products come with a 10-year warranty against paint peeling and flaking.
CONTACT US TODAY
If you're looking to refresh the appearance of your roof, get in contact with us today. We'll arrange to come out and inspect your property where we'll be able to provide you with an accurate quote. Our prices are highly competitive and will vary according to the size of your roof, the amount of maintenance required and the chosen paint product. Enquire now to arrange an instant, on-site quote.